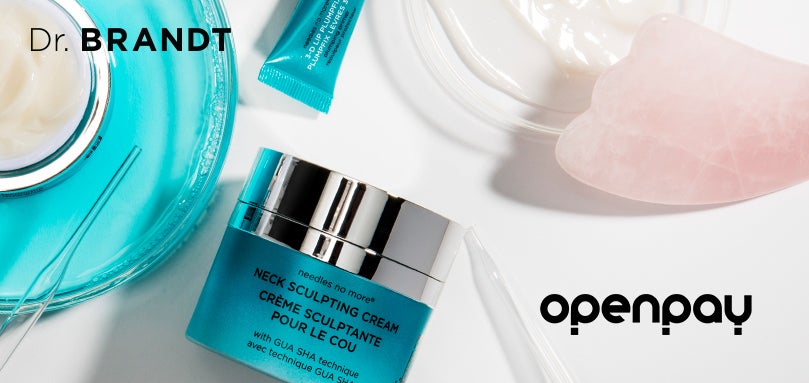 BUY NOW, PAY SMARTER
Spread the cost over 3-5 monthly instalments. No interest. Ever!
1. Shop
Shop Dr. Brandt for the things you want or need. Choose Openpay at checkout.
2. Sign up
Create an Openpay account in a few simple steps.
3. Spread it
Pay your first instalment today, spread the rest over equal monthly instalments.
4. Sit back
Your order's sent right away. Your remaining payments will be taken automatically from your chosen card.
Openpay FAQs
Simply select Openpay as your payment method at checkout and you'll be redirected to the Openpay site to create an account in a few quick steps. You'll then be asked to pick your plan length, pay your first instalment and confirm your purchase. We take care of the rest, deducting your payments automatically from your chosen card each month. Easy as that!
Our plans are always interest free.
We only charge fees if you miss a payment. Late payment fees are £7.50 (capped at £15 per plan). If you want to learn about your options to reschedule a payment, give us a call before your payment date to avoid late fees.
Learn more here
The limit may vary from store to store. It also depends on your financial circumstances. If you're having trouble placing an order with Openpay, try placing an order for a lower amount.
Absolutely! You can open multiple plans for separate purchases, all plans are approved on a case by case basis. When you choose to pay with Openpay you will be told instantly if your plan has been approved.

Openpay is committed to responsible spending and lending, we consider a number of different factors before approving each plan.
Yes, protecting your information is very important to us. All card data is encrypted and we maintain stringent physical, electronic and procedural safeguards to protect your information.
View the Openpay privacy policy here.
Depending on the purchase amount you are making, you may be asked to consent to a credit check. In those instances, your consent will be clearly requested before a credit check is performed and your Openpay plan is created. Please note, this will lodge a credit check which may impact your credit score.
We take payments automatically on your scheduled date. If you'd like to pay back earlier, you can do this free of charge via your Openpay account.
Learn more here.
Our plans are made up of equal monthly instalments. Your first instalment is paid on the day at checkout, where you can then customise your second instalment date (up to 38 days later). All remaining instalments will come out a month apart. If you need to reschedule any payment dates, give us a call to learn about your options.
Call us on 0800 048 9007 or email at support@openpay.co.uk so we can chat about your options.
Full returns and partial refunds are available. Please return your goods to the merchant they were purchased, in line with the merchant's returns policy. Once approved, you'll receive a full or partial refund of any payments you've already made to us. All returns are subject to the merchant's
return policy.
Visit the Openpay website for more information, FAQs and T&Cs
VISIT WEBSITE