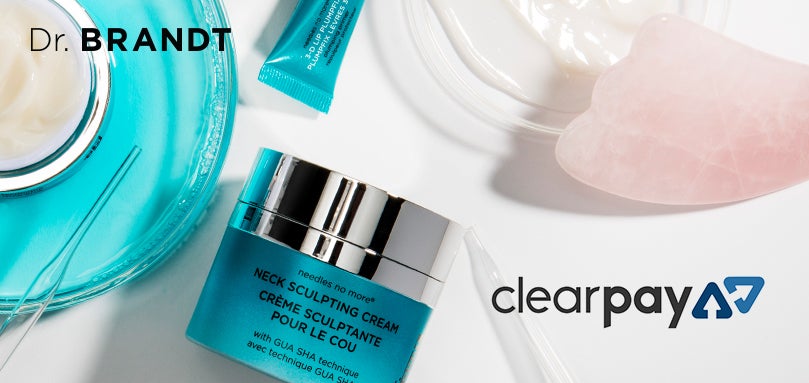 SHOP NOW, PAY IN 4 LATER
Can't wait till payday? With Clearpay you don't have to wait! Buy your favourite Dr. Brandt products today and pay later in 4 interest-free payments.
1. Simply sign up
Signing up is easy. Add your Dr. Brandt products to your basket and select Clearpay as your payment method at checkout.
2. Order your Dr. Brandt favourites today
Complete your checkout in seconds with an instant approval decision and your order will be delivered straight away.
3. No extras
Pay in 4 automatic payments every two weeks, with no additional fees when you pay on time.
View orders and make payments anytime
After your order has been processed, you can log in to your account to view your orders, make payments and manage account details.
ACCESS CLEARPAY ACCOUNT
To use Clearpay you must:
Be 18 years old or over.
Have a UK debit or credit card.
Have a UK residential address.
Have a UK mobile number.
Clearpay FAQs
Clearpay is an instalment payment option, a service that allows us to offer our customers the ability to make purchases now and pay for them in four payments every 2 weeks without any interest when all payments are made on time.
Shop our site and check out as normal. At checkout, choose the Clearpay payment method. You will be directed to the Clearpay website to register and provide payment details (Visa/Mastercard). If you've used Clearpay before then you just need to log into your account. Then complete your order and it's that easy.
Please note, that all items in your shopping bag must be eligible for Clearpay.
All Clearpay customers are required to make their first payment at the time of purchase. The remaining three payments are deducted automatically every 2 weeks from your selected payment method. If you would like to make additional unscheduled payments before they are due, you may log in to Clearpay to make your payments early. Clearpay will then adjust the amount owed accordingly.
You can log in to your Clearpay account anytime to view your payment schedule or make a payment before the next due date.
A late payment fee of £6 will be charged to your account if funds are not available when the automatic payment is due. An additional £6 fee will then be charged if the missed payment is not made within 7 days. Late fees will not exceed 25% of the total order.
Please see Clearpay Payment Purchase Agreement here
Delivery
Clearpay orders are delivered within our standard delivery time-frames like any normal order from Dr. Brandt.
Payment
Yes, you can also use a promotional code with Clearpay to pay for your purchase as long as the basket value is over £10.
Returns
Clearpay returns will follow our standard returns process. Please note, refunds for Clearpay will be refunded from drbrandtskincare.uk to Clearpay and we cannot provide an exchange or cash refund. As soon as the refund has been processed it will drop into your online Clearpay account.