Puzzling, cooking, working out, and perfecting skincare routines are just some of the ways people are making the best of their time at home during the pandemic. Whether you are learning a new language, spending more time with family, or using the time to relax and center yourself, this time should be about YOU and YOUR wellbeing. In times like these, it's important to focus on your mental health.
We asked our DR. BRANDT TEAM, what they are doing to stay busy and creative outside of work and shared some of their answers!
WHAT WE DO TO IMPROVE OUR MENTAL HEALTH DURING QUARANTINE
EDDIE, DIGITAL MARKETING COORDINATOR: 
I've been running 4 miles every day down Ocean Drive. Fitness wasn't the biggest priority for me when I started self-isolating, but it made me feel better everyday, so I found that whenever I had some downtime, I chose to workout.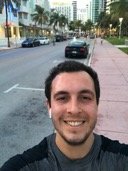 NICOLLE, SOCIAL MEDIA COORDINATOR:
Masking, SO MUCH MASKING! Being the social media coordinator, I'm always trying out our products and developing new ideas to share on our different platforms, but I've found myself truly enjoying the routine of unplugging while masking. My favorites are our Oxygen Facial which makes my skin look brighter and feel more hydrated after 3 minutes and Vacuum Cleaner which helps unclog and shrink the appearance of my pores. And of course our Magnetight Age Defying Mask which is the BEST for sharing fun photos and videos with friends.