Let's start at the basics: Vitamins are organic compounds that are meaningful to our bodies to function properly. Humans cannot properly create vitamins on our own; we either need to ingest them through specific foods or for Vitamin D, for example, by being in the sun, which is a great source for this nutrient. In the beauty and skincare industry, vitamins have been a growing trend as they have been shown to have a good impact on health. 
There are 13 recognised vitamins to this day, and all serve a specific purpose in improving each body function.  
WHY ARE VITAMINS ESSENTIAL FOR SKIN HEALTH? 
With skin being the human body's biggest organ, vitamins play an important role to keep it healthy, whether ingested (through food or supplements) or applied on the skin. Vitamins can be found in different types of food and all serve a different purpose for the human body. Let's take a look at 7 of these vitamins and how they interact with our skin: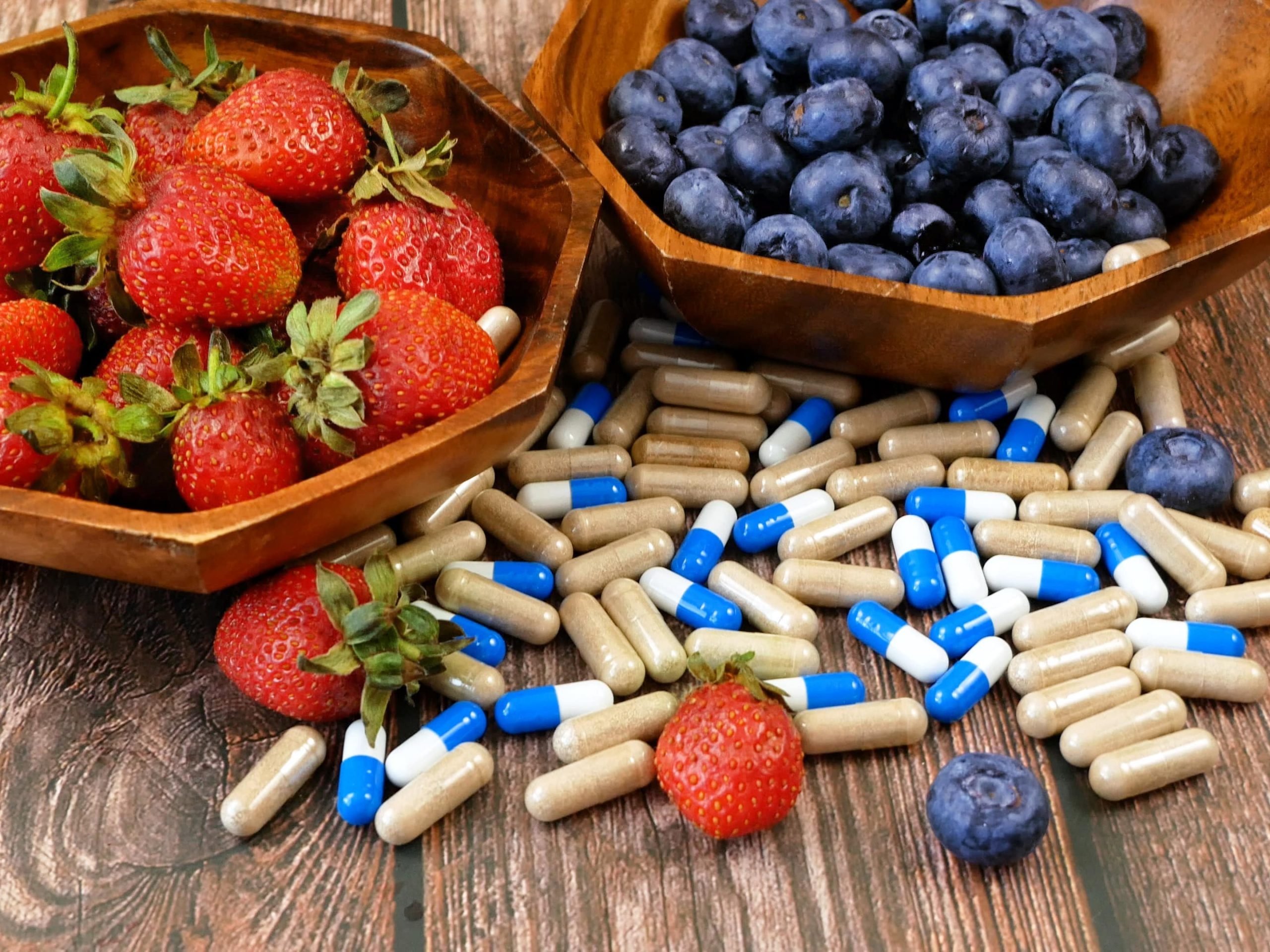 VITAMIN C 
Vitamin C, also known as L-ascorbic acid, is water-soluble. It is naturally produced in some foods (fruits and vegetables, mostly) such as:  
Citrus fruits (orange, kiwi, lemon, grapefruit)

 

Peppers (red bell peppers)

 

Strawberries

 

Blackcurrants

 

Broccoli

 

Brussels sprouts

 

Potatoes
Unlike most animals, humans aren't capable of synthesising this vitamin endogenously. It is essential for the biosynthesis of collagen (which helps wounds to heal) and a few neurotransmitters. Known as a powerful physiological antioxidant, it can help regenerate other antioxidants in the body such as Vitamin E. One of the main defenders against oxidative stress and free radicals, it may play an important role in preventing damage or delaying certain illnesses such as cancer or cardiovascular diseases¹.  
Many skincare brands formulate products like Vitamin C-infused face serums, creams or moisturisers as it helps encourage skin's natural production of collagen to keep the skin young and prevent fine lines and wrinkles. It is also very useful to protect the skin from damaging exposure such as UV rays (UVA or UVB), pollution, and free radicals. 
Our new brightening serum C Scription™ uses the gold standard of Vitamin C, which is THD Ascorbate at 20%, one of the highest on the market, known to be the best form of Vitamin C for all skin types.